Luxury Palazzo Grand Canal

minimum 4 days summer 1 month in winter
Rates 500 Euros a night minimum 4 nights
2700 Euros a week. 16 Mar 14 Nov
2900 Euros a month plus utilities 15 Nov 15 Mar

Apartment of 2,798 sq. ft. is comprised of a large living room
and a generous dining room have five double balcony windows where
you can sit and one single window looking out directly onto the Rialto
Bridge; the two bedrooms/ with bathrooms are at the back on the
interior courtyards, hence very quiet. There is a third full bathroom
with a large bath in an unrented room that we used for storage of our
belongings, but the room is available on request. There is a half-
bathroom at foyer entrance; fully equipped kitchen, utility room with
washing and drying machines and extra linen and towels. There is also
a garden/courtyard in the back and a large entrance hallway on the
ground (or Canal) level, a foyer and a Canal door lead onto a dock on
the Canal. Central air-conditioning, television, internet are available in
the apartment and other areas.

Owner Speaks: English, French, Spanish, Italian, Greek
Response time: Within a day
Response rate: 100%
Contact Marie-Helene alainarias123@gmail.com
Or contact directly at +33616459283

Photos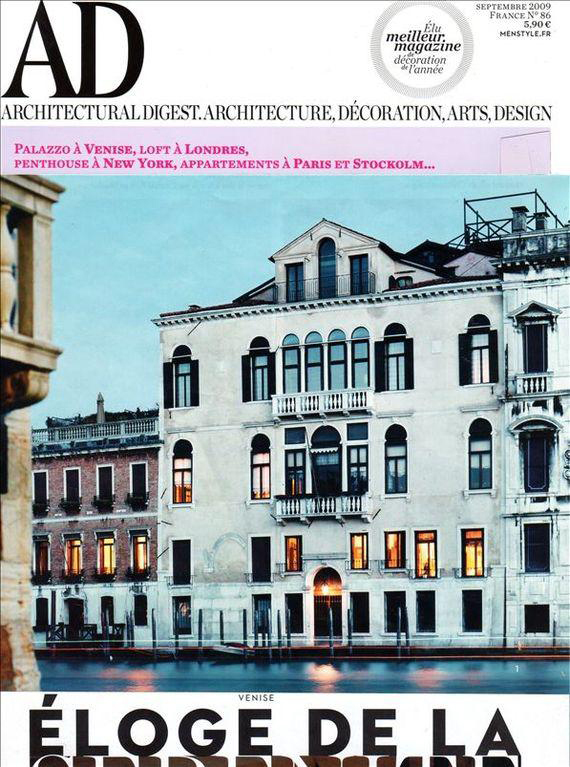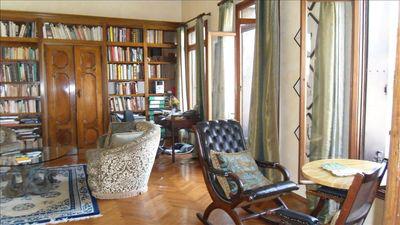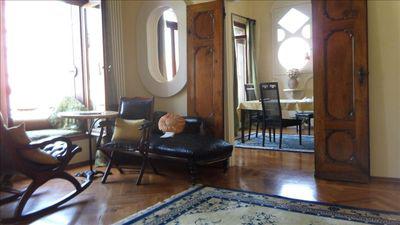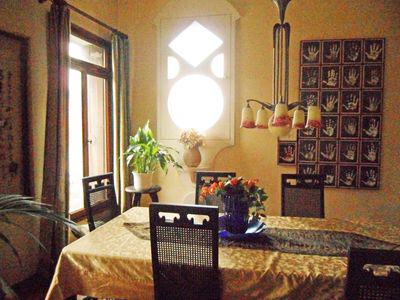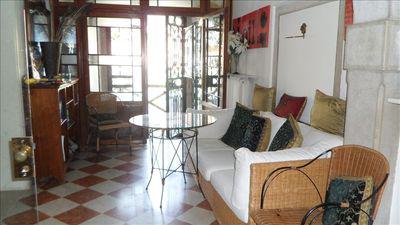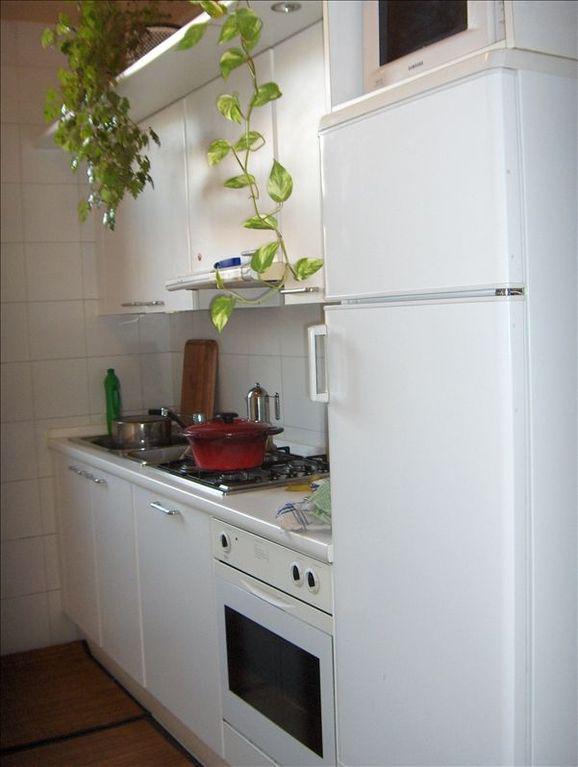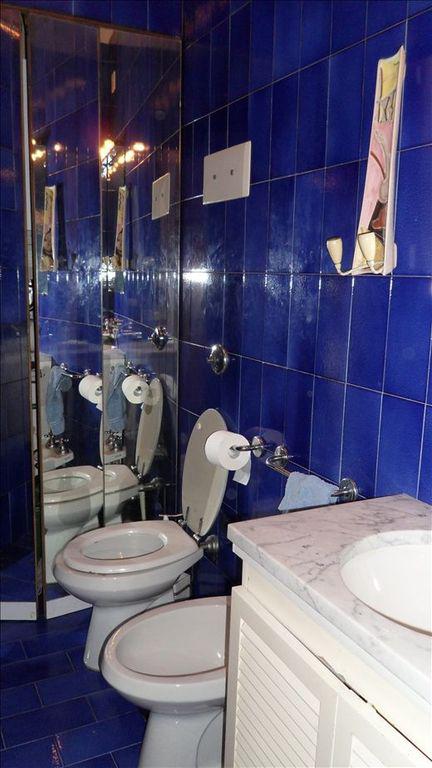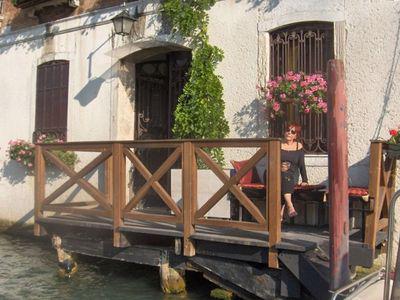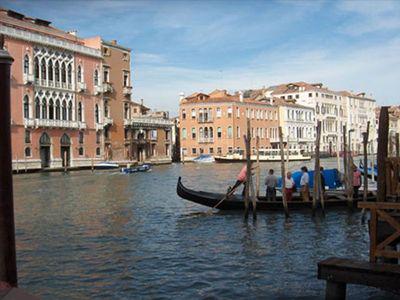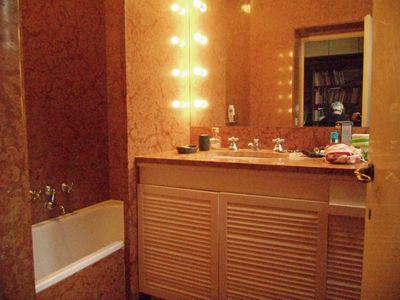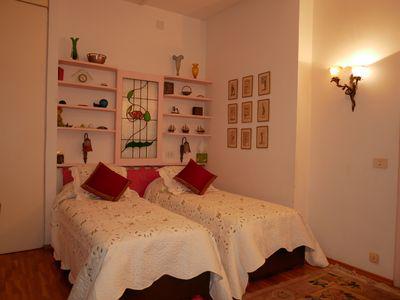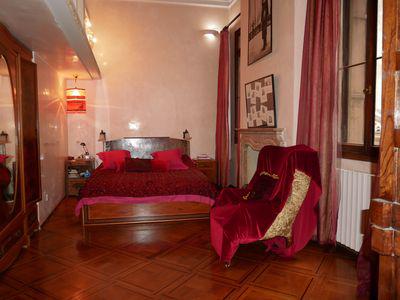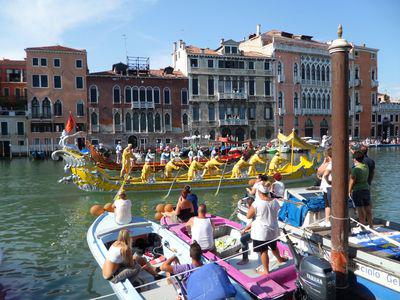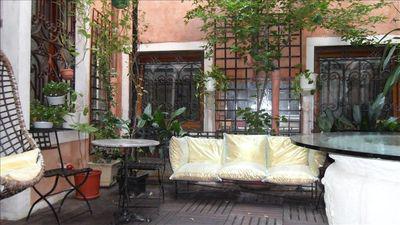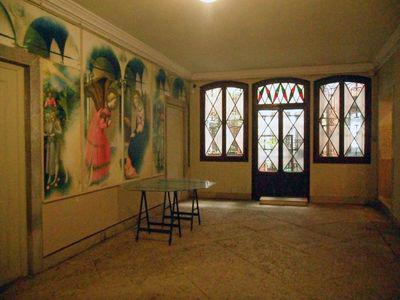 Photo Legends
1. The apartment is in the palazzo on the left side of photo, first two floors
2. View of the living room

4. Dining room
5. Downstairs foyer to the dock
6. View of one side of kitchen (has large window)
7. Bathroom
8. Dock on the Grand Canal with water taxi entrance to foyer
10. Master bathroom
11. Second bedroom
12. Master bedroom
13. Regatta Storica from our dock on the Grand Canal
14. Downstairs garden-courtyard
15. Frescos in entrance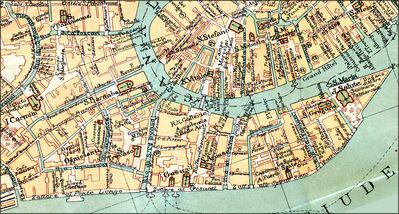 The location of our place in Venice is on the right of N

Property Type
apartment
Interior Courtyard-Garden
outdoor Dock on Grand Canal

Meals:
• Guests provide their own
meals

General:
• Air Conditioning
• Clothes Dryer
• Hair Dryer
• Heating
• Internet
• Iron & Board
• Linens Provided
• Living Room ...
• Telephone
• Towels Provided
• Washing Machine
• Wireless Internet

Kitchen:
• Coffee Maker ...
• Cooking Utensils ...
• Dishes & Utensils ...
• Dishwasher
• Microwave
• Oven ...
• Refrigerator ...
• Toaster

Dining:
Dining seating for 8 people

Entertainment:
• Books ...
• CD Player

Bedrooms: 2
1 Double Bed plus 1 Double or 2 Twin
Bathrooms: 3
Nearest Airport
15 Kilometers

Nearest Golf
5 Kilometers

Nearest Train
2 Kilometers

Nearest Motorway
2 kilometers

Nearest Beach
2 Kilometers
Reviews
Wonderful! 4.8/5 - (1-5 of 20 reviews
Daryl N.
San Francisco, California
A Perfect Venetian Palazzo!
5 of 5
It would be hard to find a more perfect place to stay in Venice! Several
years ago, as we stood on the dock of the Peggy Guggenheim
Museum, watching the water traffic pass by, we vowed that, on our
return, we would rent a place with a dock and similar wonderful views of
the Grand Canal. And we found it in this lovely palazzo!
The location of this property is truly superb, not only because of its
water-front position but because of the easy accessibility to everywhere
in Venice! It is 2 minutes' walk to the traghetto to the opposite bank of
the Canal (Guggenheim, Museum of Contemporary Art, etc.) and about
a 4 minute walk to the vaporetto stop for Piazza San Marco, the Rialto,
the train station, etc. The Alilaguna from to the airport ($17 p.p.) drops
off/picks up at this stop and is a good alternative to a water taxi (which
can be tricky and costs $110).
About 1 minute's walk away there is a general store and Campo San
Stefano (good restaurants and gelateria) and the Accademia bridge are
a short stroll away. La Fenice for the Opera is also easy to reach on
foot. This property is a far cry from a stark, cold rental property: it is
clearly the owners' much-loved second home. The prize feature of the
main unit is the grand living room and dining room with a bank of tall
casement windows which front onto the Grand Canal. When thrown
open, these provide delightful cushioned window seats from which to
view the gondolas and other boats passing below. We loved sitting
there and watching and listening to all the activity on the Canal. The
bedrooms in the main unit are at the rear and sides of the property,
away from the Canal, so there are no water views but, at the same
time, they are removed from the bustle of the water traffic and allow for
a good night's sleep.
We loved our week in this spectacular palazzo and its warm,
welcoming, homey, high-end accommodations and would return to it in
a heartbeat.
Giuseppe (Joe)
Oakland, CA
Worth a Second Trip
5 of 5
This is the second time I've stayed in this amazing Palazzo, this time for
a full month. The location is great – close to everything, without being in
the tourist traffic pattern. There are many restaurants near by, with Le
Café on Campo Santo Stefano being one of our favorites. When you
stay here, you're not only close to Piazza San Marco, but also
Dorsoduro, via the San Toma traghetto or Accademia Bridge.
On this trip, we took the opportunity to visit some of the quieter areas of
Venice, including Cannaregio and the Giudecca,, and also took several
day trips out of town, to Padua, Verona, Bologna, Ravenna, and even
Vienna for two nights, all accessible by train.
The Palazzo itself is very large, with two bedrooms and three baths. As
others have mentioned, it is most enjoyable just to sit and look out over
the Grand Canal, with a cup of coffee or a glass of wine, and watch the
boats go by. Please note, however, this is someone's home as well,
and not solely a vacation rental. I find this more enjoyable that just
staying in a rental only apartment, but it does require a bit of extra care.
The individual touches are quite charming, and you get to live with
amazing artworks and furnishings. The owner was quite attentive, and
called (and emailed) several times to make certain all was going well.
Submitted: May 9, 2016 Stayed: Feb 2016 Owner's
Response: Thank you so much for the great review. We were
very pleased you have you back again. We really appreciated the
care you took with the apartment. Thank you so much.
A guest from Las Cassas, TN
Incredible Palazzo
5 of 5
This palazzo is a true Venetian experience. The location, the
architecture of the building, and the facilities are "real" Venice. We were
treated graciously by the owners and the manager, who took care of all
our needs.
I recommend this Palazzo to anyone looking for an opportunity to
experience life on the Grand Canal in true Venice fashion.
Submitted: Apr 26, 2016 Stayed: Apr 2016
Michael H.
The Perfect Stay on the Grand Canal
5 of 5
We loved the apartment on the Grand Canal. If you know Venice, you'll
realize this is more or less the most perfect spot in the city to base
yourself. We stayed for 8 days at the end of March 2016, and were
happy with every minute. Our two kids (ages 6 and 8) spent hours in
the window seats waving at passing vaporettos and counting the people
who waved back. We loved sitting on the dock downstairs and watching
the boats pass by. The place has a warm, lived in feel, not fancy, but
everything you could want is there -- dishwasher, laundry, etc. Marie
Helene manages the property and was a delight to work with -- every
question was promptly answered. Dioni, the on-site caretaker, was also
wonderful. He met our water taxi from the airport (right to the dock!) and
helped get us settled. We loved it.
Submitted: Apr 2, 2016 Stayed: Mar 2016 Owner's
Response: Your wonderful review warmed my heart. We are so
happy when people enjoy their stay and you were great guests.
Joseph S.
Most Wonderful!
5 of 5
Palazzo on the Grand Canal is simply wonderful in every way. We
enjoyed our stay immensely and will rerun as soon as we possibly can!
Thank you!
Submitted: Feb 14, 2016 Stayed: Jan 2016
Lisa W.
Beautiful Setting - Feel The Local Life
5 of 5
We can't say enough about this beautiful apartment. It is prime location.
Awaking each morning to have coffee while sitting in the window and
watching Venetian life is such a unique experience. The apartment is
tastefully decorated and maintained. It's a secret hideaway that we
would retreat to after shopping or visiting St. Marks square, galleries,
and other sites. Every corner and turn in Venice is like a treasure hunt.
And the this apartment was our biggest treasure find. We always felt in
touch with the owners and caretakers at all times. Both parties text, use
email, and voice. English was never a problem. This is an amazing
secret treasure. I can't imagine staying in a sterile hotel. This is the way
to experience the locale with a quiet retreat of your own.
One of the most delightful entertainments is to sit outside the balcony window or at the dock
and watch the most colorful water traffic glide by! The dock is of course exclusive to our property!
Submitted: Jun 12, 2015 Stayed: May 2015 Owner's
Response: Thanks so much for the great review