Venetian Honeymoon Suite Right on the Grand Canal
210 euros per night minimum 2 nights
or 230 euros 1 night
1200 euros per week.

Apartment, 1 Bedroom + 1 Bath, (Sleeps 2)
Bedroom with bathroom on the ground floor, with two double windows directly onto the Grand Canal; the wavelets lap six feet beneath the windows! At the disposal of guests is a garden/courtyard and foyer off the large entrance hallway where guests may sit, write emails and even leave luggage. Outside the very private, locked bedroom there is a large glass door, which opens onto the Grand Canal doc
k and sitting area. Please note that when owners or their friends are staying in the separate upstairs apartment (they are not always there), they will pass through the foyer for access to the dock and their boat. Television, wireless internet, refrigerator, microwave, electric kettle are available but there is no kitchen however or real kitchen facilities. There is a wonderful shop near by with all the wonderful cheeses and cold cuts one could wish to buy and many great places to eat down the street and in the Campo.

Speaks: English, French, Spanish, Italian.
Response time: Within a day
Contact Marie-Helene: alainarias123@gmail.com
Or contact directly at +33616459283

Photos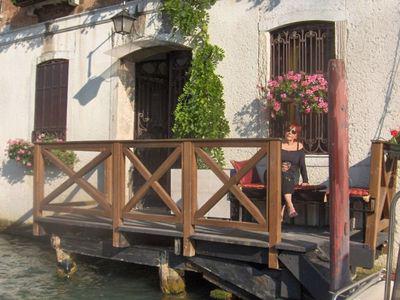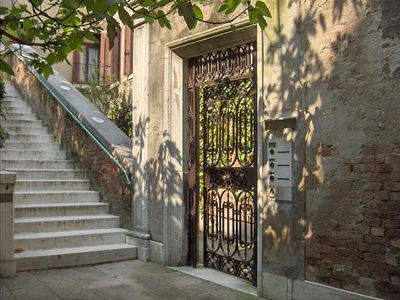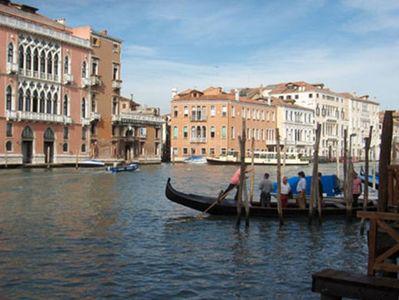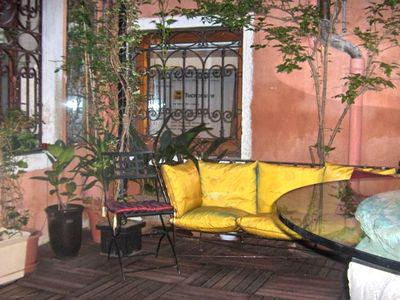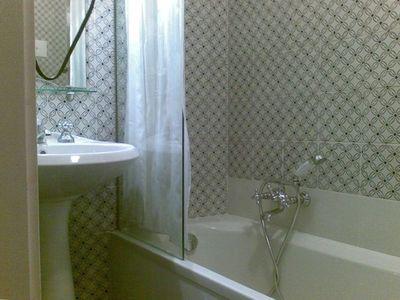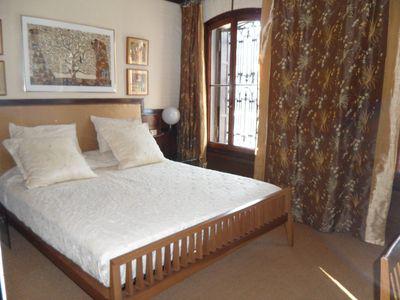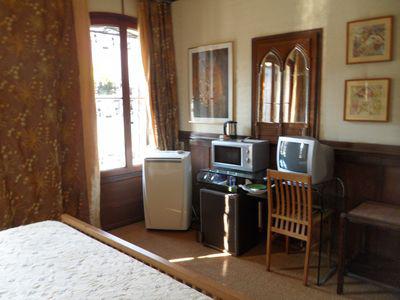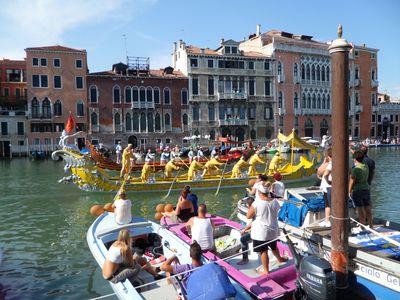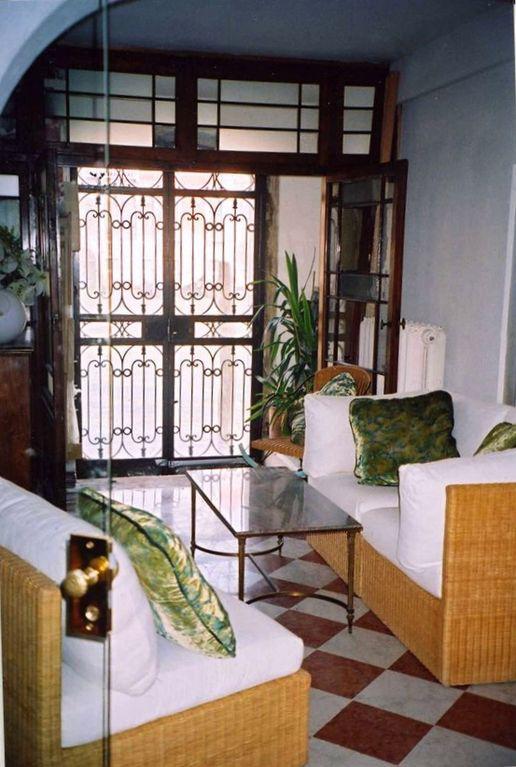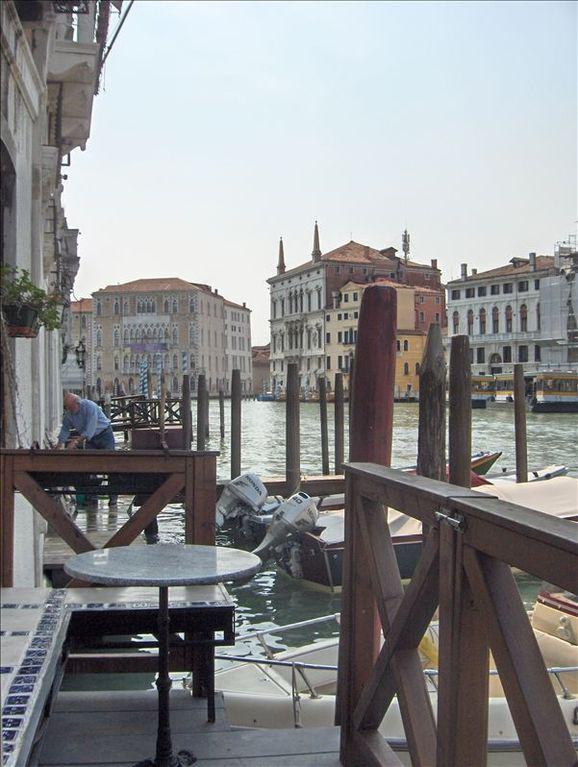 Photo Legends
1. view of dock on Grand Canal just outside the bedroom suite
7. The bedroom looking out on the canal right beneath its windows.

9. Foyer outside bedroom with door opening onto Canal dock and seating area
11. Dock in front of suite window looking towards San Marco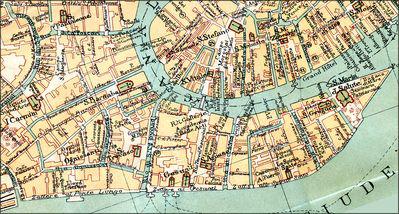 The location of our place in Venice is on the right of N

Amenities
San Marco Apartment center of Venice --san marco 5 minutes/ rialto 10 minutes

1 Bedroom, King size bed

1 Bathroom bath/ shower

*Property Type:

*General:

Internet

Linens & Towels Provided

Coffee Maker

Microwave &Refrigerator

.Television

*Outside: Deck / Patio Garden ...

Nearest Beach Lido 2 Miles , . . . churches

* Cinemas

*Museums

antiquing

boating

gambling casinos

hospital

Laundromat

medical services

kayaking

swimming
Reviews

Excellent! 4.7/5 - (64 traveler reviews)


Wonderful Location !!!

5 of 5

The location was excellent !! You could not ask for a better spot.

The street is quiet and located in a beautiful building. There is a phenomenal restaurant practically outside the front door. A few markets with meet, cheese, fresh fruit and sweets also close. The street that leads to the apartment is lined with galleries and charming shops. Venice has 30 million tourists a year, the entire city is crowded. But this small apartment was a sanctuary. The room is small but in Europe it even a hotel room will be small. St Marks was a 10 min walk. We took a taxi from the airport and arrive right at the apartment. Marie-Helene was always quick to reply and accommodating. I highly recommend this rental !!!
Submitted: Jun 27, 2017 Stayed: Jun 2017 Owner's Response: Thank you so much for your great review, it was such a pleasure to have you as our guests.

Beautiful step out to the Grand Canal
*****************************************************************
5 of 5
This cute little place is right on the Grand Canal. It is very charming and in a great location with walking distance to many sites. We were able to sit on the deck and watch the boats and gondolas go by. Thankfully they also had an umbrella there for us to use!

Submitted: May 12, 2017 Stayed: Apr 2017

Awesome
*****************************************************************
5 of 5
The dock is what made us chose this place and it was truly amazing! You can see Rialto Bridge off in the distance from the dock (which I don't think you can really tell from the photos). The caretakers that let us into the suite were great and met us at the vaporetto stop even when we arrived later in the afternoon.
Couple of things - one of the previous reviewers talked about the apartment being musty and moldy. This is not accurate. I have a pretty severe mold allergy and was worried about this, but I had zero issues during my stay. I would 100% recommend this place! Fantastic memories made sitting on the dock late into the night with my wife and a few bottles of wine.. Unbelievably romantic!!
So happy our guests enjoyed their stay.
Location Plus
*****************************************************************
Heather & Lauren Heather S.
5 of 5
My Daughter and I just stayed at this wonderful spot on the grand canal. The best part was the location. We would grab a bite to eat every morning and sit in the quiet square as it came to life. In the evening we enjoyed our light meal with wine on the dock seats watching the traffic go by. People must have thought we were famous, so many pictures were taken of us!
Owner's Response: A delightful mother and daughter and it was a pleasure having them as guests and we are happy that they enjoyed their stay..

Wonderful location in the heart of Venice.
*****************************************************************
Michael N. Santa Barbara, CA
5 of 5
I stayed here on recommendation from my dad, who stayed here during his trip to Venice, so I knew it would be excellent. Getting around anywhere in Venice, especially if it is your first time here can be daunting but the hosts provide excellent communication and help. Their instructions, map and very helpful suggestions made my stay much more enjoyable. Being right on the grand canal and having your own private little dock is an amazing experience. I must say it is a great place to enjoy some cheese and wine. Sitting in bed at night, with the window open and the grand canal just feet away is something I will always remember. While one side is on the grand canal, the back entrance allows very quick walking access to some of the nicest areas of Venice. I have to imagine this rental fills up fast so I suggest you book it if available. I would definitely stay here again.